RobotDigg Shanghai
RobotDigg Equip Makers, Empower Engineers.
Your Global Sourcing Supply Chain from Shanghai China. In Stock Supply of Factory Automation Components, Prototyping and MRO Bill of Materials.
RobotDigg Shanghai is derived from a stepper motor, linear stepper motor, control, and drive solution, pulley, and belt factory. Besides, we are trying to build an open warehouse for Engineers and Makers of much more.

As a City Card of Shanghai, RobotDigg serves as a good supporter and effective partner if you have enthusiasm in Surface Mount, 3D Printing, Plastic Extrusion and Injection, CNC Laser, Robot, Powder and Bulk Engineering, etc or you want to find a China Solution of Equipment, either you are from School, College, University, Academy or Institute working on projects of Prototyping, Science, Technology, Education, Factory Automation, Home Automation or Startup from DIY as Makers. Please feel free to contact us either for materials or a China Solution of Production Line.

RobotDigg has an active and fruitful relationship with affordable equipment and machine manufacturers in China. We work together with Makers/Hackers from China to build things, design, and manufacture, in the meantime, we bring the production on sale on RobotDigg which is similar to Amazon or eBay, we call it Collaborative Development.
Materials, benchtop equipment (3D Printer, Pick and Place Machine, etc), and small-batch production line are in stock for quick response, you could register and place your order directly through our web store. For quotation of shipping cost and questions on your ordering, leave us a note and you'll get a response within a day. Coupon and Discount will be applied, long-run business partners will enjoy a special offer meanwhile.

If you are a company of innovation want to find a China Sourcing partner or an owner of an open-source hardware store in your country that needs to organize thousands of materials, RobotDigg could be your long turn reliable partner in Shanghai China.
Desktop SJ20, SJ35 Extruder
Benchtop Injection Molding Machine
Desktop 5-axis CNC Milling Machine
SMT Production Line Solution Provider
Motion Simulator Flight, Driving
3D Printing, Extrusion n Molding, Pick and Place Machine, CNC Laser, Robot Arm and more
LCD based Resin 3D Printer


Benchtop SMD Production Line, Open source Pick and Place Project


PCB Soldering Robot


RobotDigg SCARA and 6 DOF Robot Arm



Benchtop 3D Printing Filament Production or Granulating Line


Desktop Injection Molding Machine

Pick and Place Machine, OpenPnP
Desktop or vertical pick and place machine
Price Match, Service Guarantee and Industry SMT Solutions
LED, power supply, motor control and drive electronics, consumer electronics, automotive electronics, intelligent control, quantum communication, etc industries.

1. RobotDigg is Shanghai Office of Charmhigh and price match to all channels you can find with large stock of machines. RobotDigg work with many 3D Printer, Pick and Place Machine Manufacturers to provide them with part of their Bill of Materials. And in the same time RobotDigg represent their builds worldwide.
2. PayPal payment is OK and positive on questions you have to Ms Ashley Liu asliu@robotdigg.com, RobotDigg is professional on shipping and support. To ship with certificate Country of Origin if needed to save on duties and shipping cost is good.
3. There are evidence of good fame on all kinds of machines purchased from RobotDigg, backup components supplies and consumables are available, etc.
4. Beside workbench pick and place machines, solutions to workbench surface mount or electronics prototyping, RobotDigg provide reflow ovens and soldering robot, etc items in one-stop shopping.
5. Once you ordered the pick and place machine with RobotDigg, you will be VIP client and enjoy a special discount rate of all items from RobotDigg for your modification or new builds.
6. Marketing and listing your builds on RobotDigg to win the market worldwide.
Soldering Robot or Soldering Machine
CNC 3 or 4 axis frame, soldering stations, hot air reflow gun
Only Chinese version on firmware, software, manual are available currently.
R8 Visual Soldering Robot is distributed with computer software (SD card offline solder)
One person can use several machines at the same time, greatly reduce production costs and improve production quality.
The machine comes standard with 60W thermostat ferrochrome and air gun, to meet most of the use. It's suggested that you consult from the skilled solder technicians about welding speed and ferrochrome power to choose 60w or 90w or 150w high-power soldering station.
SCARA Robot Arm STEP or SERVO
SCARA n 6 DOF
SCARA Arm
Prototype and Industrial SCARA Robot Arm
The new arrival RDG-SCARA, Rated load 1Kg, can be customized to carry 2-3Kgs.
DEMO_SCARA is belt driven only without harmonic drive 0.3mm positioning precision.
RDG_SCARA is harmonic drive 0.1mm positioning precision.
Can be used to loading and uploading, palletizing, glue dispensing or cutting pins.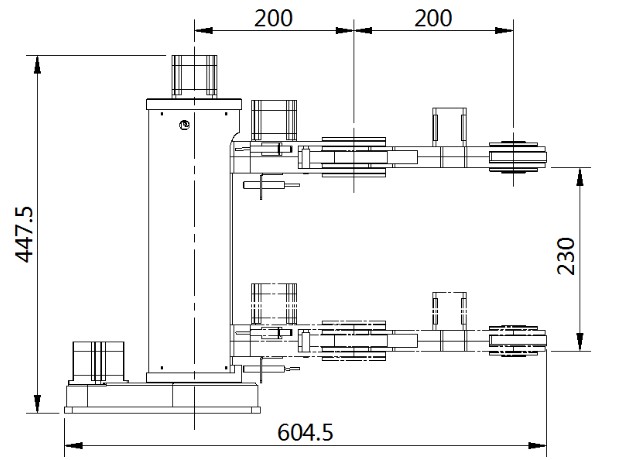 6 DOF RobotDigg Arm
RobotDigg Arm 6 DOF as waiter for coffee, bear or cola.
Desktop Pellet Filament Extruder, Production Line
Desktop 3D Printing Filament Extrusion Line
Desktop extruder line is a tiny 3D supplies extrusion production line, it has a complete process which includes turning pellets into filaments, water-cooling and winding.
Desktop extruder is specifically designed for non-professional operators, especially for laboratories. The design is based on a simple concept. Simple operation panel can reduce the risk of misoperation; well-designed structure can effectively avoid scalding operator.
If you want to produce new composite material for experiment or produce in small quantities, Desktop extruder production line would be an ideal choice.
Desktop extruder lines include: Wellzoom C extruder, water-cooling tractor and auto winder.
Desktop Injection Molding Machine
The injection molding machine which is desktop and improved one compared with traditional injection molding machines, it's small and easy to be moved, it's suitable for the production of small sample for academic usage or DIY . The product includes mold clamping part, sol injection part, body, heating systems, control systems and charging device. It's simple to use with little noise and no pollution; 220V voltage, can use any electric field.


LCD based SLA Resin 3D Printer
SLA Resin 3D Printer Type: LCD based SLA
UV LED 30W (405nm)
LV8729 64 microstepping stepper driver
Z-axis Nema17 linear stepper
X-CUBE2 Offline USB or Ethernet network. Offline support Raspberry i3 and Photonic3D
X-CUBE3 10 units 549USD per unit, provide neutral product (without our LOGO) for your unique market.
Welcome worldwide distributors to contact us for this high performance but low cost SLA 3D Printer.

Arm Robot SCARA 3D Printer
Although RobotDigg is an open warehouse for thousands of products, it's not easy for us to be specialist for every product, but in order to help customer better, we determined to study some integrated products of our partners by ourselves better in 2017, especially 3D Printers, Delta Robot Kossel or Rostock, Scara and Modular XYZ. New plan, RobotDigg member start to bring desktop machine home, study it as green hand one machine by one, and report what difficulties they meet for us to understand customer needs better.
Modular 3D Printer and Marker
Human are trying to produce item into Modular because in this way, it's easier for users to set up, either Robotics LEGO, or 3D Printers.
In Factory Automation field, Modular will bring convenience to Maintaince, Repair and Operation.
F1 Modular 3D Printer and Engraver is based on this thoughts. F1 Modular DIY 3D printer SET can be a 3D printer or be laser marking by exchanging a head of Laser Module. Is not it cool?
Delta Robot Kossel Mini, XL, XXL 3D Printer
RobotDigg is supply chain provider of the first worldwide known RepRap 3D Printer Kossel Mini from Malaysia Blomker Industries.
2020 Alu Vertex for Kossel Mini enhanced the stability and reliability Delta Robot structure. Following that 2040, 3030 Alu Vertex are released for Kossel XL, XXL 3D Printers.